Daydream Medallions Thank You Card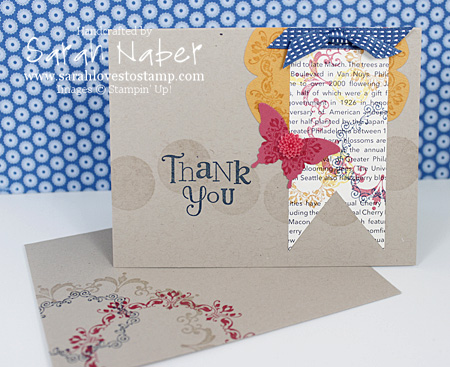 Hey!  Today's card is not my own design – I totally copied it from the Stampin' Up! home office team.  I've seen a few of them floating around thanking demonstrators for presenting at Convention or our more recent Regional Conferences.  I changed VERY little as I LOVED it exactly how it was.  The original card used Sassy Salutations which I don't own, so I substituted the Hostess-only stamp set Wacky Wishes.  (I also thought that the "Thank You" from Curly Cute would also work but hadn't used Wacky Wishes yet!)  Also, the sentiment on the original seems to be stamped in Basic Black, where I just stuck with the color scheme and used Midnight Muse.  One of my favorite things about this card?  That it uses the fabulous polka dot leftovers from the Daydream Medallions stamp set (see what I mean in THIS VIDEO). I also wanted to show you the Crumb Cake envelope that I stamped to match too!  And don't forget, this ribbon is just one of five colors you can choose from with this month's Back to Spool promotion where you'll get a FREE roll with every $40 spent!!!
Supply List
STAMPS:
Daydream Medallions (Wood-Mount 126465, Clear-Mount 126467)
Wacky Wishes (Wood-Mount 126410, Clear-Mount 126412)
PAPER:
8-1/2″ x 11″ Crumb Cake Card Stock (120953)
8-1/2″ x 11″ More Mustard Card Stock (100946)
8-1/2″ x 11″ Primrose Petals Card Stock (126841)
First Edition Designer Series Paper (121878)
Crumb Cake Medium Envelopes (107297)
INK:
Daffodil Delight Classic Stampin' Pad (126944)
Midnight Muse Classic Stampin' Pad (126860)
More Mustard Classic Stampin' Pad (126964)
Primrose Petals Classic Stampin' Pad (126858)
VersaMark (102283)
ACCESSORIES:
In Color Dahlias (127556)
Midnight Muse 3/8″ Stitched Satin Ribbon (126847)
SNAIL Adhesive (104332)
Multipurpose Liquid Glue (110755)
Mini Glue Dots (103683)
Stampin' Dimensionals (104430)
TOOLS:
Tabletop Paper Cutter (106959)
Simply Scored Scoring Tool (122334)
Bone Folder (102300)
Craft Scissors (108360)
Elegant Butterfly Punch (127526)
1-3/8 Square Punch (119877)
Big Shot Die-Cutting Machine (113439)
Floral Frames Framelits Dies (127012)
Grid Paper (102787)
Stampin' Scrub (126200)
Stampin' Mist (102394)
Connect with Me!

Categories

Archives

Copyright Info

Copyright Info All Images © Stampin' Up! 2011 Sarah Naber, Independent Stampin' Up! Demonstrator The content of this blog is my sole responsibility as an independent Stampin' Up! demonstrator and the use of, and content of, the classes, services, or products offered on this blog is not endorsed by Stampin' Up!