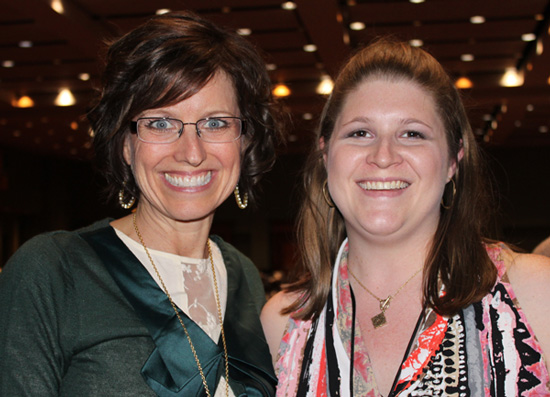 Hi there!  My name is Sarah Naber and I've been paper crafting since I was about 12 years old.  Although I'd enjoyed paper crafting for many years, I was mostly into scrapbooking and had not done a lot of card making or stamping.  Then, in the fall of 2007, I was invited to my first Stampin' Up! party and loved the color coordination their product line offered.  I joined the Stampin' Up! demonstrator family in February of 2008 because of the flexible working hours and the ability to combine something I love with a way to share it with others and make money doing so.  (The above photo is of our founder, Shelli Gardner on the left and me on the right at a Stampin' Up! Regional Event I attended in San Antonio, Texas in January 2011.)
Now, several years later, I can rarely make a project without having a stamp in my hand!  I still love to scrapbook, but making cards has become my real love in paper crafting!  In January 2010, a special edition of Paper Crafts magazine, Stamp It! contained one of my cards.
I am richly blessed with a husband who encourages my love for paper crafting, my Stampin' Up! business and my lia sophia jewelry business, as well.  We love spending time with our miniature schnauzer pup, Oscar, hanging out with our friends, watching movies, and traveling together.
Connect with Me!

Categories

Archives

Copyright Info

Copyright Info All Images © Stampin' Up! 2011 Sarah Naber, Independent Stampin' Up! Demonstrator The content of this blog is my sole responsibility as an independent Stampin' Up! demonstrator and the use of, and content of, the classes, services, or products offered on this blog is not endorsed by Stampin' Up!