Currently viewing the category: "My Digital Studio"
Hi there!  Today I'm going to do a countdown of my 10 most favorite things in the Holiday Catalog that Stampin' Up! released on August 1st!  If you don't have these, you will want to before the Holiday Catalog expires on January 2, 2013!!!  Click on any of the links by the product names to see them in my Stampin' Up! store for more info and prices!
10.  Snow Festival Designer Printed Tags (128152)– So so cute and affordable!  For only $3.95, you get 25 double sided tags that you can stamp or write on and then put on any of your holiday presents!  Or, take an idea from Stampin' Up! Convention and use either side of the tag to make a cute, fast, and fun holiday card!  (Also great for scrapbook pages – but do note that while they are acid-free, they don't say anything about being lignin-free.)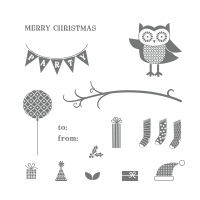 9.  Owl Occasions Stamp Set (Wood-Mount 128000, Clear-Mount 128003) – Owls have been a hot trend for a little while now and this stamp set fits right in!  The best thing about this stamp set is how versatile he is!  Dress him up as Santa, put some pastel presents and the balloon in his hand for a baby shower, let him party the night away as a Birthday greeter, or simply put him unadorned on his little branch for a scrapbook page or card appropriate for any occasion!  This stamp set also comes with a "To: From:" stamp so he is also useful for tag making!!!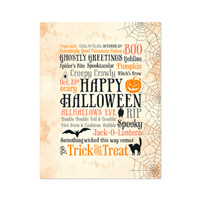 8.  Toxic Framable Digital Designer Template (128139)– At $3.95, this download is so much fun and affordable for Halloween decor in your home!  Customize it to your own colors if you would like before printing and framing this super cute, trendy subway art!
7.  3-1/2″ Scalloped Tulle Ribbon (Cherry Cobbler 127841, Crumb Cake 127840, Early Espresso 127839)- Coming in 3 scrumptious colors, this makes a great addition to cards and scrapbook pages, as well as your holiday gift wrapping needs!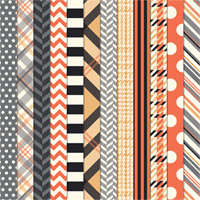 6.  Howlstooth & Scaringbone Designer Series Paper (126906)– Using this at one of my Convention classes really opened my eyes to its versatility.  While I LOVE it for Halloween projects, it is so great to be able to use the monochromatic designs for ANY other projects!!!
5.  Window Frames Collection Framelits Dies (129021) and Festive Paper-Piercing Pack (127857)– I'm kind of cheating again by combining two products!  I was thrilled to open the Holiday Catalog and see another basic shape framelits and to have a piercing template to match!  If you didn't know it already, the Essentials Paper-Piercing Pack from the 2012-2013 Catalog is my very favorite item so naturally I was thrilled to see this one that coordinates with the Labels Collection Framelits that I already had!  Also love that it coordinates another Holiday Catalog Framelits set – Holiday Ornaments.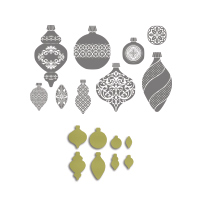 4.  Ornament Keepsakes Bundle (Wood-Mount 129949, Clear-Mount 129950) – This bundle includes the Ornament Keepsakes Stamp Set and Holiday Ornaments Framelits Dies at a 15% discount!  It was used to create the breathtaking ornament on the front of the Holiday Catalog…'nough said!!!
3.  Core'dinations Card Stock (Cherry Cobbler 127846, Early Espresso 127848, Gumball Green 127847), Stampin' Sanding System (129367), and Core'dinations Dust Buddy (129366) – WOW!  I grouped these together as they all have to do with this amazing card stock where you can sand away the exterior (in Stampin' Up! colors) to get a lighter version of the color below.  Gorgeous when paired with any of the Textured Impressions Embossing Folders and the Big Shot!
2.  Border Banter Stamp Set (Wood-Mount 128927, Clear-Mount 128930) & 7/8″ Cotton Ribbon (127844) – I LOVE the idea of making my own custom ribbon!  The Border Banter Stamp set is great as it has words to stamp on the ribbon for Christmas and Halloween as well as "Congratulations", in addition to 3 decorative borders that can be used at any time of year!!!  Pull out your Classic Stampin' Pads and create ribbon in any color/pattern you want!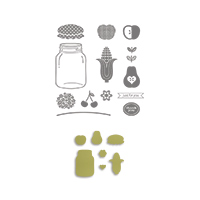 1.  Perfectly Preserved Bundle (Wood-Mount 129943, Clear-Mount 129944) – This includes the Perfectly Preserved Stamp Set and Cannery Set Framelits Dies at a 15% discount!  This was my absolute must have stamp set from the Holiday Catalog!  I LOVE the variety and how useful this stamp set can be all year long!  Also, the apple & stem stamp and die are FANTASTIC for teacher gifts, thank yous, or other projects!
So that's the end, but there are so so many things I left out:  the THREE new embossing folders and the super cute Ghoulish Googlies Bundle!  Man!  Oh and those Frightening Feline and Frosty Friends single stamps – LOVE THEM TOO!!!
Leave me a comment and let me know what your favorite product is from the Holiday Catalog!!!
Connect with Me!

Categories

Archives

Copyright Info

Copyright Info All Images © Stampin' Up! 2011 Sarah Naber, Independent Stampin' Up! Demonstrator The content of this blog is my sole responsibility as an independent Stampin' Up! demonstrator and the use of, and content of, the classes, services, or products offered on this blog is not endorsed by Stampin' Up!