As You See It Challenge #007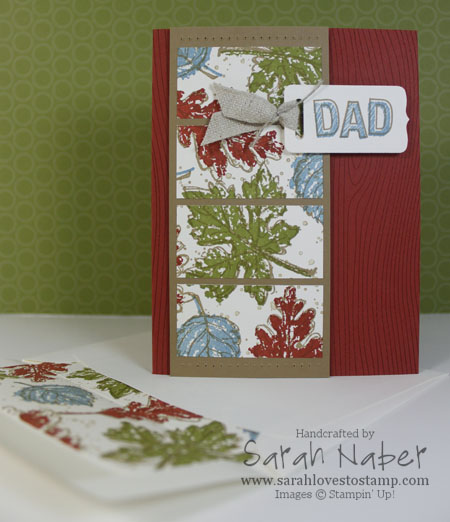 Hi there!  A fun card today for the sketch challenge over at As You See It Challenges!  I'm SO loving how this turned out for my dad's birthday card!  I also decorated the inside and the envelope so look below for that as well as a few videos for my Quick Tip Tuesday and Tool Time Thursday this week!  (You can see both of them at the very end of this post!)
I used the Gently Falling Stamp Set, which is definitely one of the sets that I use frequently.  It is SO simple to use.  Either use the solid images alone, outline images alone, or use them together as I've done on this card!  I stamped the solid images in Cajun Craze, Marina Mist, and Old Olive inks onto a 2-1/4″ x 5″ wide piece of Very Vanilla Cardstock.  Then I stamped over them (I just eyeballed it – it's fun for it not to be perfect) with the coordinating outline images in Baked Brown Sugar ink.  I used my favorite Gorgeous Grunge Stamp Set and the small splatters with Baked Brown Sugar ink to add some depth, stamping off on scratch paper each time before stamping onto my panel so the ink was lighter.  Finally, I cut them apart into four strips measuring 1-1/8″ x 2-1/4″ and mounted them onto the Baked Brown Sugar panel measuring 2-1/2″ x 5-1/2″.  I then used the Essentials Paper Piercing Pack, Stampin' Pierce Mat, and Piercing Tool to pierce the back of the panel.  Flip it over and the front has the "wrong" side of the holes.  I really like to do this technique on masculine cards as it is a little rougher looking than the regular way of piercing.
The Woodgrain Background Stamp is stamped in Cajun Craze ink straight onto the Cajun Craze card base.  I attached the leaf stamped panel with Stampin' Dimensionals.  I stamped "Dad" with the Sketch and Outline alphabets (Marina Mist for the Sketch and Baked Brown Sugar for the Outline) and then used the Chalk Talk Framelits Dies to cut it out.  Check out my video below on how I made this long die shorter to better fit my short "Dad" title.  I slipped some Natural Trim through the slot, tied it off with Linen Thread, and attached it with Stampin' Dimensionals.  *TIP:  Since I'd used Stampin' Dimensionals under the main strip, I used one on the left of the "Dad" sentiment piece and stacked them 2 high on the right.  🙂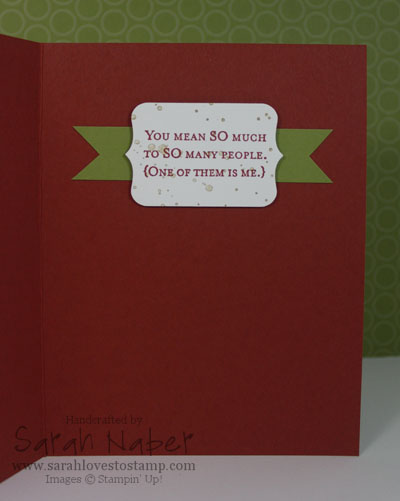 The inside is super simple.  I used my Stamp-a-ma-jig to combine 2 sentiments from the One in a Million Stamp Set and die cut it out with the Chalk Talk Framelits Dies.  I then took a strip of Old Olive Cardstock and flagged the end with my scissors.
My final step was to create a matching envelope with the Envelope Liner Die.  I'll be posting that video tomorrow but will link to it here (Edited: check it out below).  I LOVE how the set turned out!  Super professional and simple but special enough for my awesome dad's birthday!!!
I encourage you to play along with us over at As You See It Challenges!  I LOVE what we've done so far and hope you'll join us for some amazing challenges.  This week is a sketch challenge, but who knows what's coming next?!?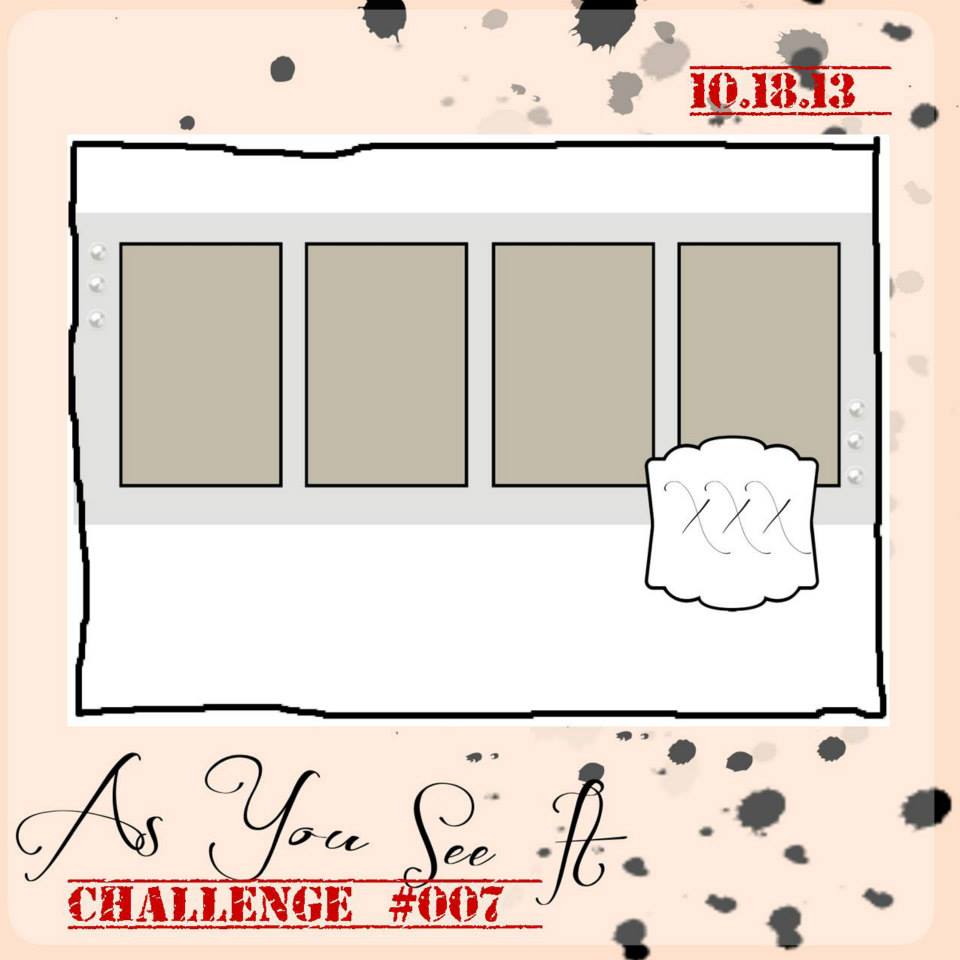 This card was entered into challenges at:  Papertake Weekly, Stamp-n-Doodle, Creative Craft Challenges 2, Eureka Stamps, The Sisterhood of Crafters, ABC Challenges, 4 Krafty Girlz, Creative Moments, My Craft Creations, and Stamping for the Weekend.
Partial Liner Cardstock Sizes
Medium Envelope: 3″ x 5-3/4″
Note Card Envelope: 2-1/2″ x 5-1/4″
Square Envelope: 2-1/4″ x 3-1/4″
Supply List
STAMPS:
Gently Falling (Wood-Mount 128430, Clear-Mount 123804)
Gorgeous Grunge (Wood-Mount 130514, Clear-Mount 130517)
ABC-123 Outline Alphabet & Numbers (Clear-Mount Only 130568)
ABC-123 Sketch Alphabet & Numbers (Clear-Mount Only 130565)
One in a Million – inside (Wood-Mount 132052, Clear-Mount 126382)
Woodgrain Background Stamp (Wood-Mount 128763, Clear-Mount 127808)
PAPER:
8-1/2″ x 11″ Very Vanilla Cardstock (101650)
8-1/2″ x 11″ Baked Brown Sugar Cardstock (131296)
8-1/2″ x 11″ Cajun Craze Cardstock (119684)
8-1/2″ x 11″ Old Olive Cardstock – inside (100702)
Very Vanilla Medium Envelopes (107300)
INK:
Baked Brown Sugar Classic Stampin' Pad (131174)
Cajun Craze Classic Stampin' Pad (126965)
Old Olive Classic Stampin' Pad (126953)
Marina Mist Classic Stampin' Pad (126962)
ACCESSORIES:
7/16″ Natural Trim (129287)
Linen Thread (104199)
SNAIL Adhesive (104332)
Multipurpose Liquid Glue (110755)
Stampin' Dimensionals (104430)
TOOLS:
Stampin' Trimmer (126889)
Simply Scored Scoring Tool (122334)
Bone Folder (102300)
Paper Snips (103579)
Craft Scissors (108360)
Stamp-a-ma-jig (101049)
Paper Piercing Tool (126189)
Stampin' Pierce Mat (126199)
Essentials Paper-Piercing Pack (126187)
Big Shot Die-Cutting Machine (113439)
Magnetic Platform (130658)
Chalk Talk Framelits Dies (129983)
*Also comes in a bundle with the Chalk Talk Stamp Set at a 15% discount.  Wood-Mount 132731, Clear-Mount 132730!*
Envelope Liners Framelits Dies (132172)
Grid Paper (102787)
Stampin' Scrub (126200)
Stampin' Mist (102394)
Connect with Me!

Categories

Archives

Copyright Info

Copyright Info All Images © Stampin' Up! 2011 Sarah Naber, Independent Stampin' Up! Demonstrator The content of this blog is my sole responsibility as an independent Stampin' Up! demonstrator and the use of, and content of, the classes, services, or products offered on this blog is not endorsed by Stampin' Up!