Announcing!!! Project Life & Weekly Deals
We are so so so excited to let you know we've partnered with the amazing Becky Higgins to bring you the real deal—authentic Project Life products, now in exclusive Stampin' Up! colors and designs. If you've somehow missed the Project Life craze and are wondering what it's all about, we'll fill you in: it's a super simple, totally affordable way to get your photos into albums: you just slip your photos into Photo Pocket Pages and add designed cards. It's a back-to-basics approach to documenting your life. In a nutshell, it's all about spending more time making memories and less time scrapbooking them.
You'll be able to order a selection of Project Life products starting May 1! And with the launch of our new annual catalog on June 2, you'll be able to buy from our complete line of Project Life products.
Can't wait that long? Stampin' Up! demonstrators will be able to order the limited selection starting April 21. So if you're a demonstrator make sure to check the demonstrator website that day; if you're not a demonstrator, sign up and you can order the products early too!
Here are the items you'll be able to purchase on May 1: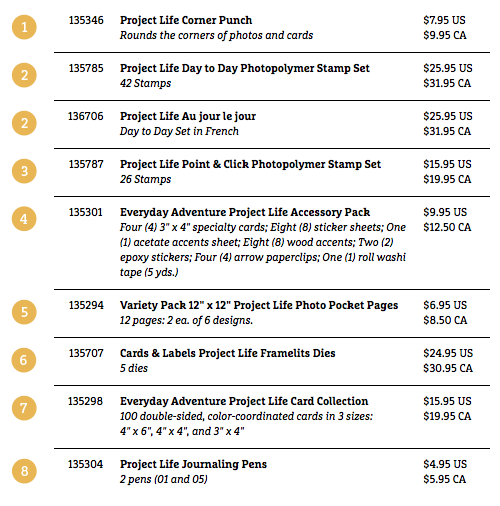 I started papercrafting when I was 10 when my mom and I started scrapbooking together.  Many, many years later, I found Stampin' Up! and fell in love with the simplicity of card making.  Project Life is EXACTLY what I need to get back into scrapbooking again so I can't wait to order these products and start documenting our memories again!  I love looking at my old scrapbook pages and remembering the stories and people.
Now to print some of the thousands of pictures that I've taken…that's definitely one drawback of digital photography.  Anyone out there like me that hasn't printed a picture in years?  I think pictures are actually the #1 reason I quit scrapbooking.  I'd print a picture but so often felt like I needed it in Black & White or a different size or whatever so I just went to card making where I didn't have to worry about a picture at all.
I hope you'll stay tuned!  I'll do some videos on the products when they come but I won't be able to post those until it's available for customers to order on May 1st.  I hope you're as excited as I am!  And just in time for National Scrapbooking Month!!!  Perfect timing!
I almost forgot…here's the video announcement!
Connect with Me!

Categories

Archives

Copyright Info

Copyright Info All Images © Stampin' Up! 2011 Sarah Naber, Independent Stampin' Up! Demonstrator The content of this blog is my sole responsibility as an independent Stampin' Up! demonstrator and the use of, and content of, the classes, services, or products offered on this blog is not endorsed by Stampin' Up!