Currently viewing the tag: "Embossing Folder"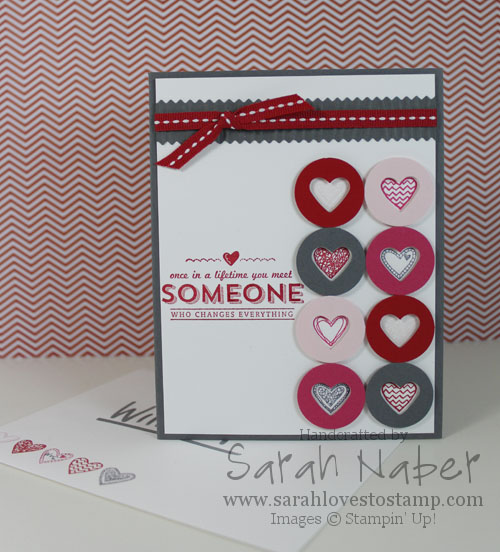 Hi there!  Today I have my husband's Valentine's Day card to share with you!  I combined a few great challenges to bring a fun, masculine card to you (at least my hubby says it is still masculine with the pink since it was for V-day and he says ribbon is ok too).  Loving this lovey combo of colors from the Color Throwdown Challenge and the FABULOUS sketch from Freshly Made Sketches!  I can tell you I will be using this layout again soon!  LOVE!
I received the Language of Love stamp set (Wood-Mount 133074, Clear-Mount 133077) at Stampin' Up! Leadership in Houston in January (FREE perk for attendees!  Woohoo!) and had NO idea I'd fall in love with it (no pun intended…honestly) this much!!!  I combined it with the perfect sentiment from the FREE Sale-A-Bration exclusive stamp set, See Ya Later (Wood-Mount 133533, Clear-Mount 133536)!  LOVE IT!  This sentiment is also GREAT for any love card: Valentine's Day (obviously), weddings, anniversaries, best friends, and even for adopted parents/children too (I instantly thought of how much my parents changed my life when they adopted me).
One tiny detail you can't see well from the picture?  I used markers to ink up the 5 Heart Strip stamp from Language of Love in the 4 different colors I used and stamped it in the bottom left corner of my envelope.  I used the Basic Gray Stampin' Write Marker to put a tiny "W + S" in one of the open hearts on the envelope for a personalized touch for my hubby, William.  I also used the Envelope Liners Framelits Dies (132172) to line the envelope with some Real Red patterned paper from the Brights Designer Series Paper Stack (130134).
You can earn See Ya Later, or any of the other 12 SAB exclusive choices, FREE with any $50 product order!  Don't miss out on this awesome opportunity!  Click here, or any of the links below to visit my Online Store!
How To
1. Cut Basic Gray cardstock to 8-1/2″ x 5-1/2″ and score in half at 4-1/4″.  Cut a strip of Basic Gray to 4-1/4″ x 1″.  Cut Whisper White cardstock to 4″ x 5-1/4″.
2.  Using Small Heart Punch, punch 2 hearts out of scraps of each of Basic Gray, Melon Mambo, Pink Pirouette, and Real Red cardstocks.  Push the punch in as far as it will go and leave space between the 2 punched hearts for the next step! (Set aside the hearts you punched out, as you actually want the negative image for this project!)
3.  Using the 1″ Circle Punch upside down (so you can see where you're punching), center it around each of the punched hearts from Step 2.  Punch all 8 of these out and decide on how you want to arrange them! 🙂
4.  Stamp the 5 Heart Strip stamp from Language of Love on 1″ strips of Whisper White cardstock in each of the following colors:  Basic Gray, Melon Mambo, Pink Pirouette and Real Red.  Use the 3/4″ Circle Punch to punch out 2 hearts from each color.  The hearts that look white above are actually Pink Pirouette.  This color is VERY pale and hard to pick up in the photo.  Sorry about that!  *TIP:  The hearts are close enough together that you will punch an edge of the heart next to it.  This is not a big deal at all because you won't see that through the little circle/heart windows we made in Step 3.
5.  Use Stampin' Dimensionals (cut apart) to adhere the circle/heart windows from Step 3 onto the stamped heart circles from Step 4.  I put my dimensionals on the back of the circle/heart windows – a half dimensional at the top of the heart point and a quarter dimensional on each side of the bottom point of the heart.  Then I lined it up over the top of the heart I wanted behind the window and pressed down. 
6.  Next I laid out where I wanted the circles to be and made a mark between the 2nd and 3rd set of circles so the sentiment could be right in the void between the circles.  I then used my Stamp-a-ma-jig to position the "Someone" sentiment from the Sale-A-Bration choice See Ya Later stamp set in Real Red ink.  Earn it FREE with a $50 purchase from now until March 31, 2014.
7.  I used the Multipurpose Liquid Adhesive to adhere the circle hearts down to the white layer.  *TIP:  Use the Multipurpose Liquid Adhesive anytime you need a bit of time to move things around a titch.  That's the beauty of a liquid adhesive – it's a total life saver for my perfectionist nature!
8.  Run the strip of Basic Gray cardstock through the Big Shot Die-Cutting Machine with the pinked edge from the Finishing Touches Edgelits Dies.  You'll have to run it through once for one edge and a second time for the second edge. 
9.  Run the strip of Basic Gray through the Big Shot again using the Woodgrain Embossing Folder to give it a bit extra oomph and add some texture to the card!  It is rare that I can make a card without these things!!!  *TIP:  Do all embossing LAST!  If you have any cutting to do with the Big Shot, running an embossed piece through the machine will flatten the embossing a bit. 
10.  Glue the Basic Gray strip to the top of the card.  Trim the excess off of the edges.  *TIP:  I shared this yesterday, but when I'm going to emboss and I need it to be a specific size (this strip needed to be 4″ wide), I cut it a bit bigger and trim it after embossing, either on my paper cutter or with Paper Snips if it is a strip that will overhang the edge like this one.
11.  Finally, tie a knot of ribbon around the white layer and adhere the layer to the card base!  🙂  *TIP:  Whisper White and Very Vanilla are a bit thinner than our other cardstocks and thus I have trouble with them buckling when I go to tie my ribbon around a single layer of these cardstocks, so I used my favorite ribbon tying trick on this card.  Check out the video posted below for how I do this.  On this project, as I mentioned in the video, I used a Glue Dot (Stampin' Up!'s are mini sized) in the center of my knot to put it exactly where I wanted it.  Also, in the video, I used our regular Stampin' Mist bottle.  Since the ribbon needed to span 4″ (plus some to tape on the back) on this card, I used the Stampin' Mist Refill bottle as my cylinder (it is larger).  I taped the edges to the back before adhering it to the card base. 
*BONUS TIP:  The ribbon tip in this video will also help you use a little less ribbon too – stretching your roll to make even more projects before it runs out!  Just by a couple of inches of course so not huge but if you're using a specific color tons or mass producing cards, you'll notice a difference.

Supply List
STAMPS:


PAPER:


INK:


ACCESSORIES:


TOOLS:

This card was entered into challenge at:  Color Throwdown, Cupcake Inspirations, Freshly Made Sketches, Artistic Inspirations, Crafting from the Heart, Challenges 4 Everybody, Cuttin and Stampin, Digistamps4Joy, Lexi's Creations, Lady Bug Crafts, Oldie But a Goodie (Woodgrain folder, Edgelits, Punches, Pink Pirouette), Paper Pretties, and Splitcoaststampers Ways to Use It (Red, Red, Red).  🙂
Connect with Me!

Categories

Archives

Copyright Info

Copyright Info All Images © Stampin' Up! 2011 Sarah Naber, Independent Stampin' Up! Demonstrator The content of this blog is my sole responsibility as an independent Stampin' Up! demonstrator and the use of, and content of, the classes, services, or products offered on this blog is not endorsed by Stampin' Up!