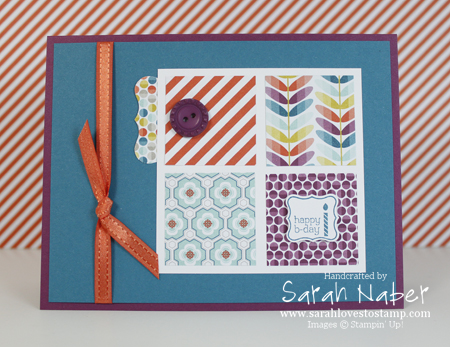 Hi there!  Long time no post, right?  Sorry about that – I'll be better in the future!

  So, today's card uses some of my favorite things from Sale-A-Bration 2013.  This is the time of year that with every $50 you spend, you get to choose a FREE item!!!  The Sycamore Street Designer Series Paper (featured on this project) has been probably the favorite choice!!!  I also feature the Pretty Petites Stamp Set, Petite Curly Label Punch, as well as the Sycamore Street Ribbon & Button Pack.  Remember you only have until March 22nd to get these Sale-A-Bration exclusive items.  (*Note:  One exception is the Petite Curly Label Punch.  It will be in the 2013-2014 Annual Catalog, however, then you'd have to pay for it!

)  One of my favorite things about this patterned paper is the color combination.  So fresh and fun!  I never would've thought to put these colors together and it is making me use my much neglected Tangerine Tango!  I love that!
I fell in love with a card of Lyssa Zwolenak's that used this teeny tiny stamp set.  I changed out all of the colors and the paper but copied her layout exactly!  I used the 1-3/8″ square punch to punch out 4 squares of the Sycamore Street DSP.  I then used the regular Curly Label Punch (in the 2012-2013 Annual Catalog) to punch out another piece of the paper.  I cut it in half since less than half of it would be showing anyway!  I glued the squares to a 3-1/8″ x 3-1/8″ piece of Whisper White Card Stock, then glued the half Curly Label on the back.  The 5-1/4″ x 4″ piece of Island Indigo has a knot tied around it with the Tangerine Tango ribbon from the Sycamore Street Ribbon & Button Pack (I LOVE this ribbon!  It ties super nicely and feels satiny smooth!).  That piece was adhered to a 5-1/2″ x 8-1/2″ of Rich Razzleberry Card Stock that is scored at 4-1/4″, and then the main image piece that we assembled earlier is glued on the right half of the card.  I attached a Rich Razzleberry button from that same Sycamore Street Ribbon & Button Pack with a Glue Dot.  Finally, I used the cute Pretty Petites Stamp Set and stamped the birthday image on a scrap of Whisper White Card Stock with the Island Indigo Classic Stampin' Pad.  Then flip your punch over, line it up with the image and punch it out!  Adhere it onto your project with a Stampin' Dimensional!  YAY!  You're done!
The great thing about this stamp set is that you could literally make 8 or 12 of these in a short amount of time and just pop a different stamped image on the different cards so you're ready for anything!  Super fast and easy!  Have I mentioned how much I LOVE our coordinating stamps and punches?!?
Check out the items in the supply list below and pay special attention to those you can EARN FOR FREE with every $50 you spend!  (*Note:  I marked them SAB below in the list and colored them red too!) Remember, time is drawing to a close on our best sale of the year so make sure you get your order in on time!!!  I will be putting in an order on March 22nd at 10 PM Central Time if you want to combine orders. 

Supply List
STAMPS:
SAB Pretty Petites (Wood-Mount 129639, Clear-Mount 129642)
PAPER:
8-1/2″ x 11″ Whisper White Card Stock (100730)
8-1/2″ x 11″ Island Indigo Card Stock (122923)
8-1/2″ x 11″ Rich Razzleberry Card Stock (115316)
SAB Sycamore Street Designer Series Paper (127540)
INK:
Island Indigo Classic Stampin' Pad (126986)
ACCESSORIES:
SAB Sycamore Street Ribbon & Button Pack (130812)
SNAIL Adhesive (104332)
Multipurpose Liquid Glue (110755)
Mini Glue Dots (103683)
Stampin' Dimensionals (104430)
TOOLS:
Tabletop Paper Cutter (106959)
Simply Scored Scoring Tool (122334)
Bone Folder (102300)
Paper Snips (103579)
Craft Scissors (108360)
SAB Petite Curly Label Punch (129405)
Curly Label Punch (119851)
1-3/8 Square Punch (119877)
Grid Paper (102787)
Stampin' Scrub (126200)
Stampin' Mist (102394)
Categories

Copyright Info

Copyright Info All Images © Stampin' Up! 2011 Sarah Naber, Independent Stampin' Up! Demonstrator The content of this blog is my sole responsibility as an independent Stampin' Up! demonstrator and the use of, and content of, the classes, services, or products offered on this blog is not endorsed by Stampin' Up!