Currently viewing the category: "Techniques"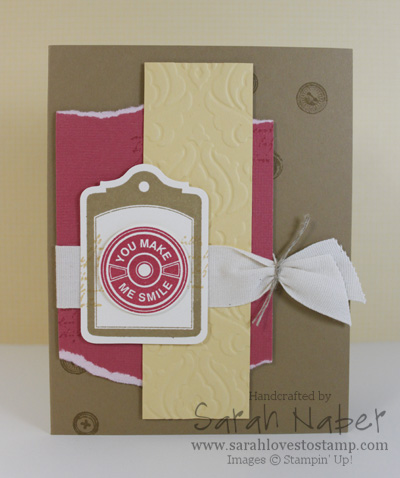 Hi there!  Today I'm bringing you one of my favorite swap cards from Convention 2013 (yes, I still have more of these to come)!  It uses several great products that were new in our 2013-2014 Annual Catalog, including the Notable Notions Stamp Set, Chalk Talk Framelits, and Beautifully Baroque Embossing Folder!  It also uses a GREAT product that is is SALE during the Holiday Sale – the Core'dinations Cardstock!!!  I LOVE that stuff!  Stay tuned for tomorrow's Quick Tip Tuesday!  I'm going to show several ways to use this amazing, versatile product!  It is textured if you leave it plain, or you can sand it, tear it, or emboss AND sand it together to reveal the paler core!  All of the packs except the 2013-2015 Color Pack are included in the Holiday Sale and they are 30% off!!!  Rock on!  I LOVE this product so I couldn't be happier.  With the regular color collections, you get 40 total sheets – 4 sheets of each of the 10 colors – for $16.77 (regularly $23.95) and the 2012-2014 In Color collection is 20 total sheets – 4 sheets of each of the 5 colors – for $8.97 (regularly $11.95).  There are also discontinued single-color packages (Early Espresso, Cherry Cobbler, Primrose Petals, Gumball Green) on the clearance rack of 12 sheets of 12″ x 12″ for $2.79 (regularly $6.95).
Anyway, I used the Primrose Petals from the 2012-2014 In Color Core'dinations Cardstock on this card and simply tore the top and bottom edge, as well as stamped on it a bit with the script image from Notable Notions in Primrose Petals ink.  The main focal point was stamped and then cropped out with the Chalk Talk Framelits with the help of the Magnetic Platform and the Big Shot Die-Cutting Machine.  *TIP:  The framelit that matches the image is symmetrical, so just use your Paper Snips to snip off the bottom of the shape off to match the straight bottom edge of the stamp.  That Cotton Ribbon is so fantastic and easy to use on projects that it just blows my mind! 🙂  It's also a super easy one to dye to match your projects too!
I'm so in love with the elements in this stamp set!  The buttons are 3 separate images but I put all of them onto a clear block and stamped the background (as well as a matching envelope) quickly and easily.  I love the sentiment too!  It's fun because it is also a design element and the main focal point but the thing I LOVE most about it is that it can work for so many different occasions.  "You Make Me Smile" would work for birthdays, thank yous, retirements, graduations, and of course, the no occasion, just-wanted-to-make-someones-day.  🙂  The color combo of Soft Suede, Primrose Petals, So Saffron, and Very Vanilla really feels vintage and is so soft and beautiful!  Embossing the So Saffron strip of cardstock with the Beautifully Baroque embossing folder just added some gorgeous dimension and texture!
I hope you loved this card as much as I do!  It ended up being my favorite of the 13 cards I designed for Convention this year – I think because it was SO out of the box for me.  Do you ever have that?  You make something that isn't in your comfort zone and it ends up being better that what you'd do if you stuck to your comfort zone?  Pretty exciting when that happens!  Ok, crafty friends, I'll leave you for today but check in tomorrow for some more crafty inspiration! 🙂
Connect with Me!

Categories

Archives

Copyright Info

Copyright Info All Images © Stampin' Up! 2011 Sarah Naber, Independent Stampin' Up! Demonstrator The content of this blog is my sole responsibility as an independent Stampin' Up! demonstrator and the use of, and content of, the classes, services, or products offered on this blog is not endorsed by Stampin' Up!