Currently viewing the tag: "Color Coach"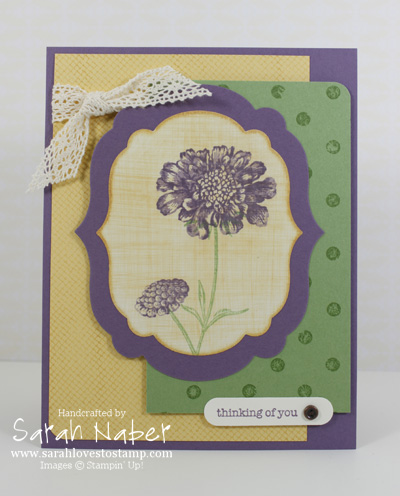 "But I'm not creative…" That short phrase is probably one I hear more than any other as a demonstrator!  I hear it at classes I teach, at workshops, and in the community when I tell people what I do and say they can do it too!  Creativity is a tricky thing – I understand not feeling creative!  I know some of my peers have more creativity in their pinky finger than I do in my entire body.  But I love doing what I do, so my response is always the same!  You don't have to be creative to create things and to enjoy the process!
This card is a GREAT example of that!  I used a color combination from the Stampin' Up! Color Coach #120148 (a GREAT tool – in fact I did a video on it a while ago that I will link HERE):  Perfect Plum, Wild Wasabi, and So Saffron!!!  Gorgeous!  This ended up being my favorite swap card I made for Stampin' Up! Convention 2012!  We also made this card shortly before I left for Convention in my Crazy about Techniques class as it uses the Faux Linen technique!  This technique is an oldy but a goody!!!  You use glossy card stock and sand it horizontally and vertically until the gloss is worn off, then sponge and stamp it and sand it more if you want until you get the desired result!!!  LOVE IT!  The layout is one I took from an old Mojo Monday challenge (I LOVE to print their monthly ones and then page through them when I'm creating – I rarely participate in a challenge in real time.  I just found it and it was from Week 2 of Mojo Monday!!!  Really really old!)  I also LOVE the Field Flowers stamp set!  (I do wish I had it in Wood-Mount though so I could make permanent vellum sheets to use with the Stamp-a-ma-jig!)  And I used Teeny Tiny Wishes – my go-to stamp set as it includes every greeting I could need!  (This card would be great for any occasion – just switch out the greeting!!!)  I most always punch it out with the Word Window punch as I have here – super easy, cute and will fit anywhere on any card!!!  I used another favorite of mine from SU! – background stamps!!!  I LOVE them and they are a favorite of mine.  I almost always make a card with either a background stamp or a background embossed with a Textured Impressions Embossing Folder and the Big Shot!  Anyway enjoy!!!  Let me know if you have any questions!!!
Supply List
STAMPS:
Field Flowers (Wood-Mount 122760, Clear-Mount 122762)
Teeny Tiny Wishes (Wood-Mount 115370, Clear-Mount 127802)
Netting Background Stamp (122655)
Distressed Dots Background Stamp (122815)
PAPER:
8-1/2″ x 11″ Glossy White Card Stock (102599)
8-1/2″ x 11″ Very Vanilla Card Stock (101650)
8-1/2″ x 11″ Perfect Plum Card Stock (101889)
8-1/2″ x 11″ So Saffron Card Stock (105118)
8-1/2″ x 11″ Wild Wasabi Card Stock (108641)
INK:
Perfect Plum Classic Stampin' Pad (126963)
So Saffron Classic Stampin' Pad (126957)
Wild Wasabi Classic Stampin' Pad (126959)
ACCESSORIES:
Victoria 5/8″ Crochet Trim (118481)
Vintage Trinkets (118764)
SNAIL Adhesive (104332)
Multipurpose Liquid Glue (110755)
Stampin' Dimensionals (104430)
TOOLS:
Tabletop Paper Cutter (106959)
Simply Scored Scoring Tool (122334)
Color Coach (120148)
2012-2014 In Color Color Coach Cards (126890)
2011-2013 In Color Color Coach Cards (124886)
Bone Folder (102300)
Craft Scissors (108360)
Stamp-a-ma-jig (101049)
Paper Piercing Tool (126189)
Stampin' Pierce Mat (126199)
3/16″ Corner Rounder Punch (119871)
Word Window Punch (119857)
Big Shot Die-Cutting Machine (113439)
Labels Collection Framelits Dies (125598)
Grid Paper (102787)
Stampin' Scrub (126200)
Stampin' Mist (102394)
Connect with Me!

Categories

Archives

Copyright Info

Copyright Info All Images © Stampin' Up! 2011 Sarah Naber, Independent Stampin' Up! Demonstrator The content of this blog is my sole responsibility as an independent Stampin' Up! demonstrator and the use of, and content of, the classes, services, or products offered on this blog is not endorsed by Stampin' Up!