Beautiful Salted Background Technique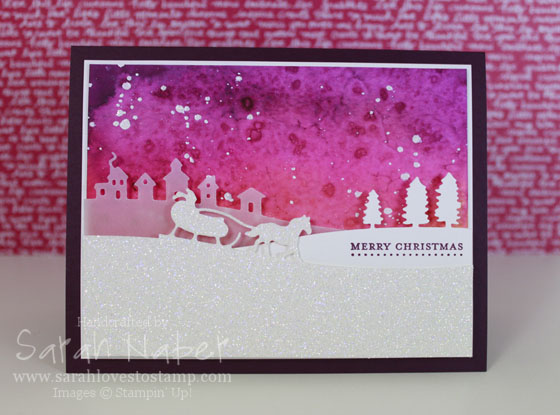 I fell in love with this technique when I saw my demo friend, Jen do it in shades of blue.  I wanted to use this amazing edgelits set (RETIRING) as I'd just gotten it recently.  The sketch was an As You See It Challenge a few weeks ago but I got sick so I just got around to editing the pictures and SURPRISE, a video too so I'm sharing those today! Check out the current challenge HERE!
The best thing about this technique is that you can do it with items you already have!  Can't beat that.  🙂  I love the color combo here of Pumpkin Pie (you can't really see it except for at the very bottom of the colored part), Melon Mambo, Rich Razzleberry and Blackberry Bliss.  I find doing things like this just really make me feel like a true artist!
I layered all 3 of the framelits here with the village in Vellum Cardstock, the trees in regular Whisper White and the sleigh in Dazzling Diamonds Glitter Paper.  EACH layer was popped up with Stampin' Dimensionals so this is a VERY dimensional card.  I would not recommend sending it in a regular envelope.
A note about the white splatters.  I did them to tie all the white together with the technique piece.  However, I would do them differently next time.  I mixed a bit of Whisper White Craft Ink and water and splattered it on with a paintbrush.  14 hours later it wasn't dry! So I tried to add White Stampin' Emboss Powder to the wet splatters.  When I heated it, it was almost like the powder went to the edges and melted normally while the wet ink bubbled up through the center of the splatter.  Next, I tried 2 separate rounds of Iridescent Ice Embossing Powder.  It still wasn't perfect (I could touch the splatters and still had a tiny amount of ink transfer onto my fingers) but it was as close as I thought it would get.  Next time, I plan to try splattering with a mixture of Multipurpose Liquid Glue and water and then embossing with either white or a mix of white and iridescent ice since I ended up loving the touch of sparkle in the sky.  Anyway, that's how crafting goes…sometimes it works, sometimes it doesn't!  Hopefully, you can learn from my mistake.
So here's the video.  I'll also add the closeup picture, as well as the measurements and supplies below! 🙂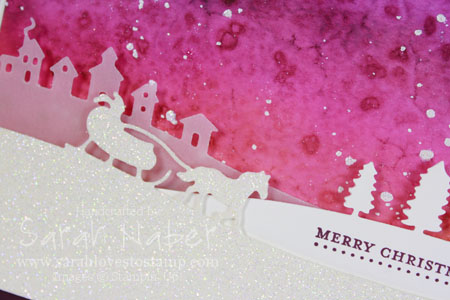 I used As You See It Challenge 113 for this card!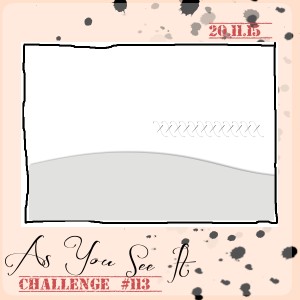 Cut List
Blackberry Bliss: 5-1/2″ x 8-1/2″, scored at 4-1/4″
Whisper White: 5-1/8″ x 4-7/8″
Watercolor piece (trimmed after technique was finished): 5″ x 4-3/4″
Village edge is 2″ from the bottom of the watercolor piece.
Connect with Me!

Categories

Archives

Copyright Info

Copyright Info All Images © Stampin' Up! 2011 Sarah Naber, Independent Stampin' Up! Demonstrator The content of this blog is my sole responsibility as an independent Stampin' Up! demonstrator and the use of, and content of, the classes, services, or products offered on this blog is not endorsed by Stampin' Up!